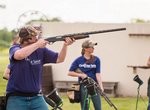 Trap Practice
The COS Trap Club is a co-ed program that provides students with an opportunity to participate in a supervised shooting program. They are lead by Certified Shotgun Coaches, Robert Rahlfs and Andre Voges.
Besides teaching the safe and responsible handling and use of firearms, the club provides a supportive team-based environment using the shooting program as catalyst for teaching life lessons and skills that emphasize positive character traits and citizenship values.
Another club goal is to introduce young shooters to an activity that can be enjoyed for a lifetime, offers a level playing field, and offers all family members an opportunity to enjoy together.
The Trap Team had a slow start this year due to finding a home to shoot. Thanks to the hard work and dedication of the Friend's of World Shooting Complex, a Memorandum of Understanding was reached with IDNR and the state of Illinois to allow shooting for organizations to return.
The team has enjoyed several weeks of practice learning gun handling and basic trapshooting skills. They recently participated in the SIYSSA shoot at Sparta and are looking forward to many shoots this summer.
The team is open to all current COS students and potential COS students in 7th and 8th grade.