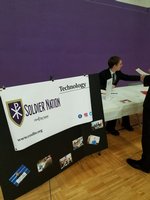 Josh Laufer demonstrating app at Gala
Christ Our Savior Lutheran High School introduced a Mobile Computer Science Principles class this academic year and it has officially been recognized as an AP course. In the class, students build socially useful mobile apps, create projects and document them in ePortfolios. Students also improve writing and communication skills, learn to problem solve using collaboration, and express their creativity.
Mobile CSP is being taught in over 400 schools in 42 states across the country. COSLHS is the only school in our area offering Advanced Placement Mobile CSP.
Check out this app made by students in our AP Mobile Computing Class. They made it based on an electronic form sent out asking students what the are thankful for and what they like about COS. After completing the app, they were able to demonstrate it at the technology table during the gala. Awesome job!!! #SoldierNation
#COSLHStechnology