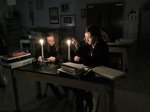 Art students studying light and shadow
Join us on April 27, 2019 from 5:30 - 7:30 P.M. for a festive night showcasing the great things going on at our school. This interactive experience gives you the opportunity to mingle with our students and alumni at booths highlighting current exciting projects going on at Christ Our Savior Lutheran High School. Visit with some of our Alumni to see what impact COSLHS continues to have in their lives and what directions they have taken in work.
This night will include a meal catered by Lisa's Market Street Grille, inspirational words from Rev. Todd Wilken of Issues, Etc., a chance to try 3D archery, social media photo contest, prizes and giveaways.
This event is free and open to anyone who would like to come join in the excitement or learn more about Christ Our Savior L.H.S. An RSVP would be appreciated by 4/22/19 to help with meal planning and table set up.
Reserve your seats today at 618-853-7300.