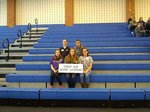 Friday, Feb. 2, COSLHS students participated in the regional WYSE competition at the SWIC campus in Belleville. Worldwide Youth in Science and Engineering (WYSE) is an International program headquartered at the University of Illinois, offering the annual Academic Challenge competition. The Academic Challenge is a competitive series of tests created and administered by Worldwide Youth in Science and Engineering and offered to high school students in Illinois and Missouri. Test material is drawn from senior high school and freshman level college curricula. Written by teams of college and university faculty, subjects include biology, chemistry, computer science, engineering graphics, English, mathematics, and physics. Each test production team produces three tests of increasing levels of difficulty, regional, sectional and state finals. Students can compete as individuals and as part of a team. They have 40 minutes to complete multiple-choice tests that range in length from 30 questions (computer science) to 100 questions (English).
Annelise Quinn, Miriam Hall, Elias Hall, Hannah Sochowski, and Joshua Laufer represented Christ Our Savior L.H.S.
Joshua placed 1st in Biology and also in English for Division 300.